BAFANG Motor M625 1000W 750W 68/100mm Mid Drive Motor Conversion Kit
Regular price

Sale price

$1,098.44

Unit price

per
Turn your bike into an e-bike - with Bafang motors 

In addition to the normal commercial e-bikes, there are lots of conversion systems available. "Bafang" is one of the leading manufacturers in this area - both for e-components and complete systems.
Note: The M625 drive systems with CAN protocol, this motor is only compatible with the BT F22.960.C/BT F23.480.C batteries. Bafang M225/M325/M625 drive systems can only be used on vehicles intended for off-road use and designed to travel on unpaved surfaces. Please make sure to comply with local laws and regulations.



This is a complete conversion kit - with all necessary parts - for you and your bike! 
Order  |  Assemble  |  Ride
This conversion kit contains the following components:
750W/1000W motor with all necessary cables and fixing parts
Functional principle and advantages

 

of

 

Bafang M625

 

mid-drive

 

motors 
Compared to the hub motor, the mid-drive motor doesn´t transmit the power directly to the wheel, but the bicycle chain. This means, your rear bicycle gears can also be used with a motor assist, which is not only an advantage when riding uphill. Further advantages are ideal weight distribution, low center of gravity, and a very natural riding experience. Furthermore, the front and rear wheels can still be changed without any problems.
Bafang M625 motor function is very simple: The electric motor powers the front chainring with an internal gear ratio of 22:1. An integrated clutch makes it possible, that the crank arms won´t be moved while the chainring rotates forward.
Bafang M225/M325/M625 advantages:
The Motor is very silent.

Pedaling resistance is very low, even without system operation

Bafang M225/M325/M625 motors are very low maintenance

Spare parts available and easy to change for yourself 

Magnesium alloy shell, better heat dissipation
 Technical comparison of our 3 different Bafang motors: 
From Bike to E-Bike - but how to do? 
The conversion is very easy and can be done by anyone with a little manual skill. Briefly described(In our video, we have shown this in detail):
The bottom bracket has to be removed

Mounting Bafang motor by fixing with triangle and both lockrings and clamp

Battery fixing on the bottle holder

Connecting the cables
M625 DIY System Review:
This video has shown this in detail:
New DIY System Unboxing Video:


Motor Specification:
| | |
| --- | --- |
| Motor model: | MM G321.750/1000.C |
| Rated power:  | 750W/1000W |
| Rated voltage:  | 50.4V |
| Rated efficiency:  | ≥78% |
| No-load current: | <1.8A |
| Rated current: | <13A |
| No-load speed:  | 126±10RPM |
| Rated speed:  | 116±8RPM |
| Rated torque: | >40N.m |
| Maximum torque:  | >100N.m |
| Axis speed sensing:  | Cadence Sensor |
| Certification: | UL / ROHS / EN14766 /EN14764 |
| Outdoor Temperatures: | -20℃~45℃ |
| Relative Humidity: | (15-95)%RH |
| Noise (dB): | ≤55 |
| Chain line(CL):  | 59.6/75.6mm |
| BB length:  | 68/100mm |
Battery Specification:
| | | |
| --- | --- | --- |
| Base Parameter | BT F23.720.C | BT F22.960. C |
| Nominal Voltage | 50.4 DCV | 50.4 DCV |
| Nominal Capacity | 14.3Ah | 19.6Ah |
| Min Capacity | 14.1Ah(@1C/25℃ Discharge) | 19Ah(@1C/25℃ Discharge) |
| Energy | 720Wh | 960Wh |
| Continuous Charge Current | 4A | 4A |
| Charging time | 4.5h with 4A Charger | 6.5h with 4A Charger |
| Storage( At 35% SOC &-10~35℃) | 6 Months (need to charge) | 6 Months (need to charge) |
| Cycle Life | 600 (70%SOC(@25±5°C, Charge @0.2C and discharge@0.5C)) | 600 (70%SOC(@25±5°C, Charge @0.2C and discharge@0.5C)) |
| Riding Distance | ca. 50km( 1000W motor) | ca. 80km( 1000W motor) |
| Dimension(L*W*H) | 375*101*123mm(±1.5mm) | 375*100*149mm(±1mm) |
| Weight | Appr. 4.2 KG | Appr. 6.0 KG |
| Charger | Special 5P charger | Special 5P charger |
| Certification | UN38.3/MSDS/CE/FCC | UN38.3/MSDS/CE/FCC |
| Warranty | 12 Months | 12 Months |






More Information:
1.Import Duty Description:
a.Customers duty and VAT paid by us for the EU, AU, RU, UK, US.
b.Shipping free in normal areas. Remote areas may be charged, Tax is paid by the customer.
2.Warranty Explanation
30 months warranty for the motor kit. 12months warranty for the battery. Our company only repairs the damage caused by the correct use of the product during the warranty period. Please read the precautions of the product carefully.
3.Motor Bottom Bracket Size
M225 250W is 68mm
M325 500W is 68mm
M625 750W is 68mm/100mm
M625 1000W is 68mm/100mm
68mm is suited for 68mm-73mm bike, 100mm is suited for 98mm-102mm
4.Battery notes:
a, It is recommended to charge the battery after use. But never fully discharge the battery.
b, When the battery is not used for storage, the recommended capacity of the battery should be between 60%-80%
c, Do not charge the battery longer than the charging time specified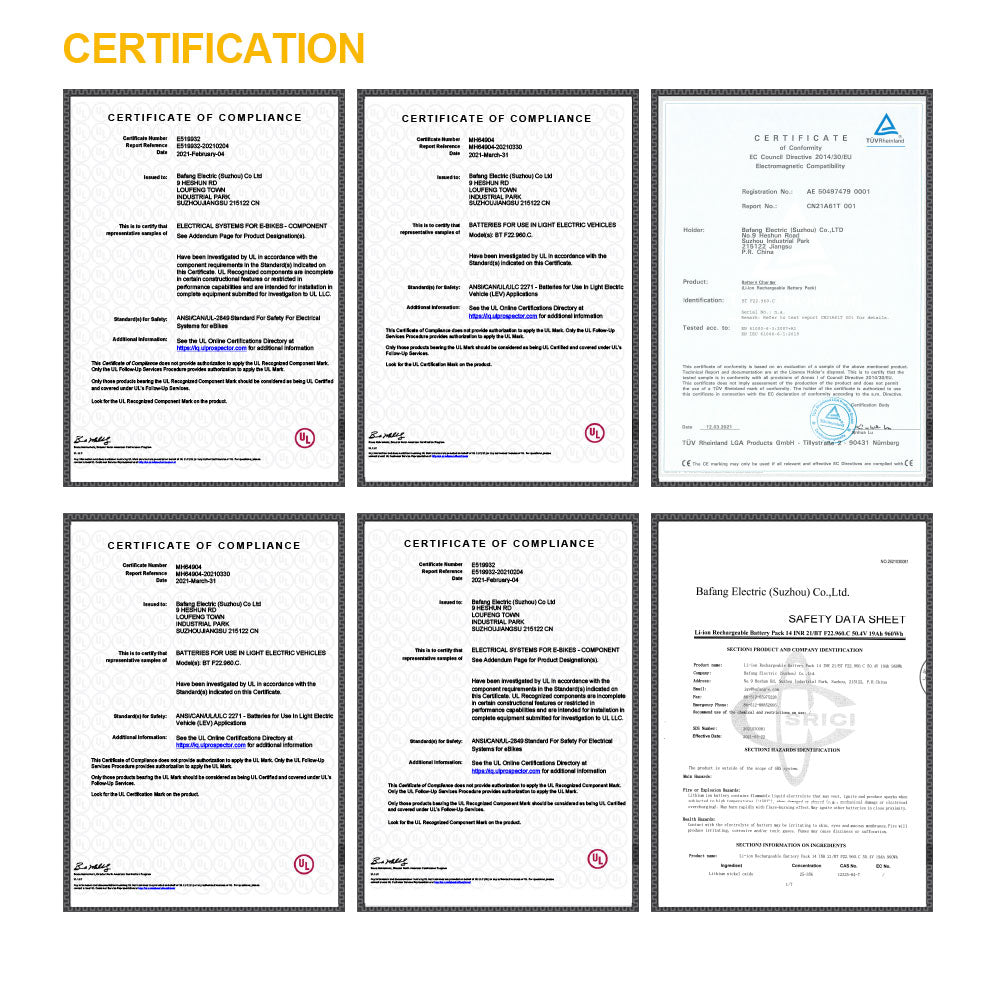 FAQ
Q: How do I know whether this kit will be suitable for my bike?
A: The kit will only suitable for the bike≥27.5inch
(The upper area of downtube shall have a motion range of 390mm in length and 170mm in height for battery installation)
Q: Can I buy the battery from other sellers to match the motor to use?
A: This New M325 & M625 motor is only suitable for the BAFANG 50.4V battery, if you use another type of battery, it will not suitable.
Available downloads: